Not the Same Done-It-Before Youth Meetings
Tim Ferguson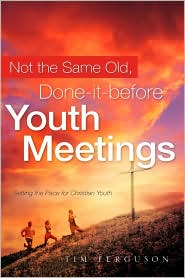 One of the challenges youth ministers face in the 21st century is trying to keep young people engaged amidst all of the distractions of digital age. Too often the Church has relied on out-dated, tired, youth models to educate and inspire this generation.
With his book, Not the Same Old Done-It-Before Youth Meeting, author Tim Ferguson breathes new life into this critical ministry. This book is filled with wonderful activities to challenge and engage youth such as the simulated court room drama, "The Jury Speaks" or "Olympics", a multi-week series.

Ferguson's thirty plus years working with youth are evident in every page of this book. Not only does this book offer a plethora of activities, it also addresses some of the basics like: picking a space, setting rules for the group and others. This text will make a wonderful addition to any youth ministry, new or established, no matter the number of participants.

Whether youth minister or youth group member, pick up a copy of this exciting text and prepare to have a ton of fun.
For a preview of this wonderful book, Click Here.
To visit Tim Ferguson's website, Click Here.